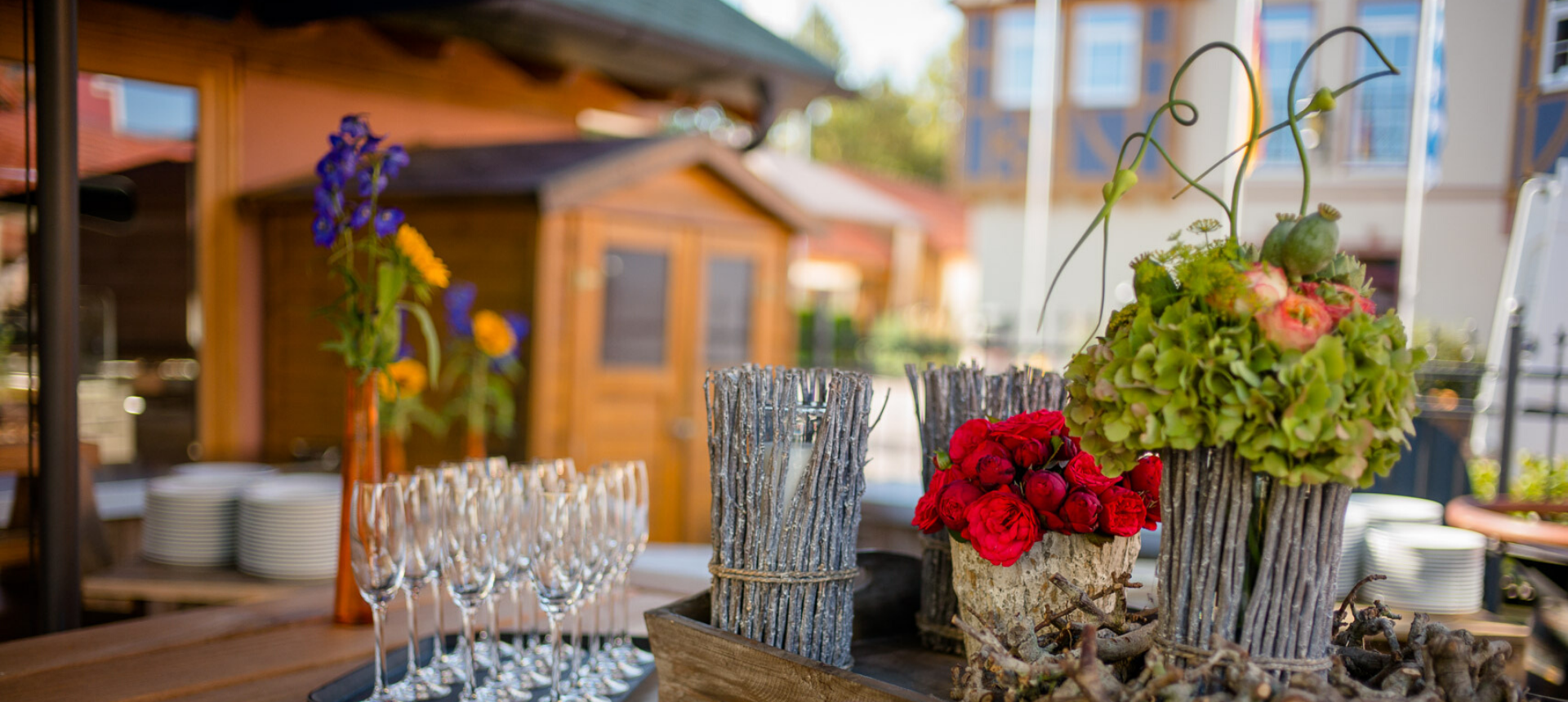 With us your party becomes a celebration
You celebrate each festival only once. Do you want your event to be unique? Unforgotten? We do it. Because our locations and our ideas are anything but ordinary. How about a sundowner on the sandy beach on our island? Aperitif and flying finger food with live music in the Ibiza-style finca? In addition, as a delicious highlight, a grill buffet in the evening. Or a warm welcome in winter with stick bread and a fire barrel on the lake shore - with mulled wine or mulled gin? Wine lovers feel like they are in seventh heaven in our rustic phylloxera. And if you and your guests want an evening like in Tuscany, our Don Giovanni invites you to dream and enjoy with his Mediterranean wall paintings.
Our Seehotel Niedernberg, the village on the lake, offers you an unmatched variety of options for your event and celebration. The best thing to do is just give us a call and we will talk personally about your ideas and wishes. And if you don't have a very specific one yet and you just want it to be great, then we will provide you with ideas and concepts. For your party, which will be an unforgettable celebration with us and with us.
Exclusive reception or casual celebration?
In our Farm there is no off-the-shelf style. You can expect a room with a spirit that you will not encounter a second time. Whether a stylish reception or a casual celebration, business event, wedding, anniversary or simply a cool party - in our finca in Ibiza style your event will be the start of a unique evening - or a whole day. An atmosphere to take off awaits you on our hotel's own peninsula. "Celebrate Your World" - in front of a large panoramic window facing the lake, large photo wall of the Ibiza rock Es Vedra, on our picturesque lake terrace - ideal for barbecue buffets - with lots of stylish tables, chairs and designer upholstered furniture.
They are well received here
Receive your guests in a friendly way: in our atmospheric one blockhouse - completely natural with lots of wood and daylight from the surrounding windows with a view of the lake. A spacious anteroom and, in good weather, our terrace are ideal for your reception, for buffets and unlimited barbecue enjoyment. From our large balcony, while enjoying a glass of sparkling wine, your gaze wanders over the surface of the water, shining silver in the sun, to the horizon.
The subtle meets the spiritual
Do you like it rustic? In the beautiful Phylloxera celebrate in a wine cellar atmosphere at our large table made of solid wood with up to 22 guests. As if made for lovers of good wines and delicious food - also perfect for table picnics. Surrounded by delicious wines and a wide variety of spirits, you will experience the finest of spirits. We will organize your atmospheric reception right in front of it on our picturesque village square.
For an evening of Dolce Vita
Have you ever thought of taking your guests off to Tuscany for an evening - or to Rome? Isn't possible, do you think? But yes: very simple and straightforward in ours Don Giovanni! Atmospheric murals in the Mediterranean style exude an epicurean flair just like in the "land where lemons bloom". For a unique event experience in Italian style, your banquet will be prepared at our long table for up to 28 guests. With a glass of red wine in hand, you can enjoy the wide view over the lake on our lakeside terrace.
Curious?
We are looking forward to your contact!