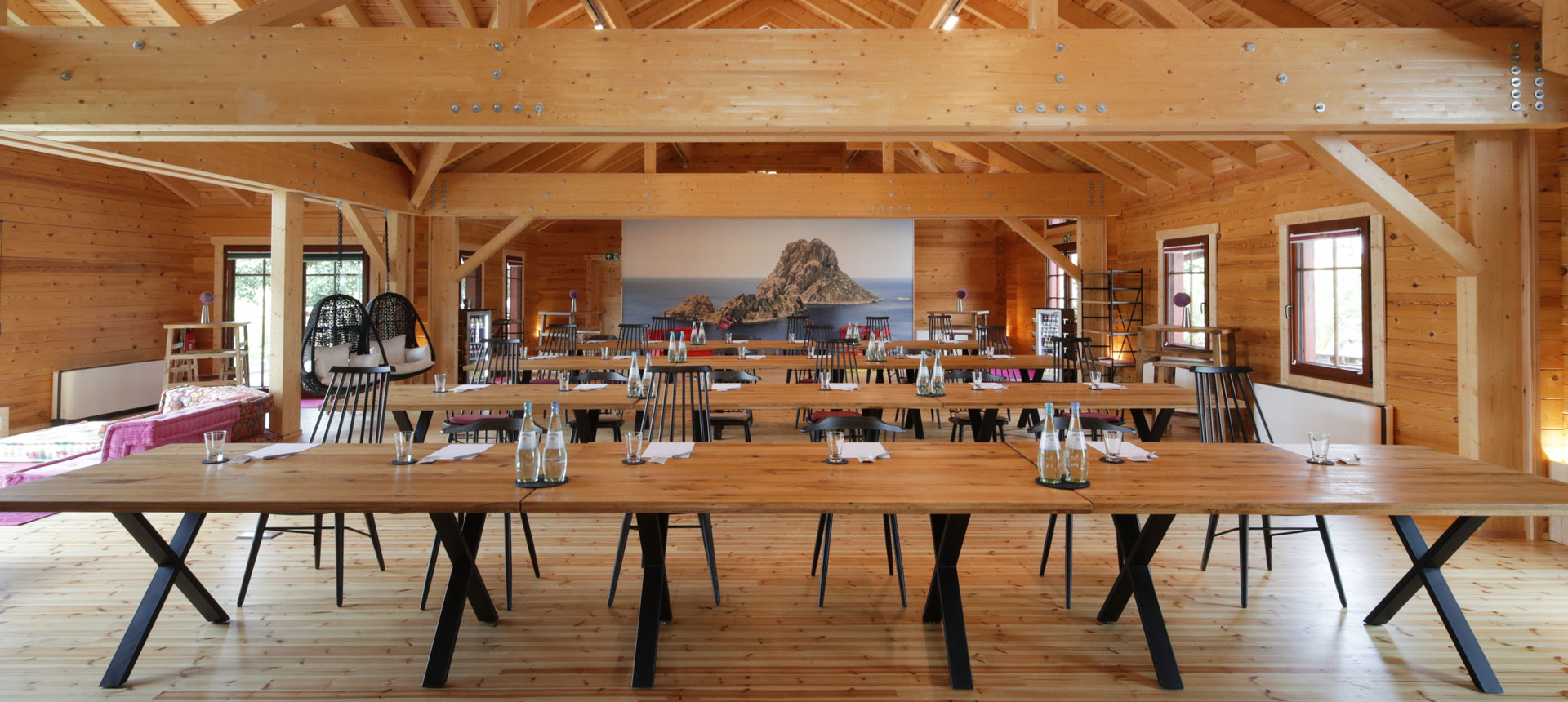 The finca on the island - your next meeting room
The village on the lake near Aschaffenburg
A hotel that is a village, an entire village that is a hotel - conference hotel, event hotel, culinary hotel, country hotel, relaxation hotel and also wellness hotel. And all this right on Lake Niedernberg with its own island, boathouse, finca and MEERfeeling. Enjoy a short break in Hesse, a break in Lower Franconia just a few minutes' drive from the Rhine-Main region and yet so pleasantly quiet and relaxed. A visit to the Seehotel Niedernberg, the village by the lake, is like a trip to the Mediterranean – with the difference that you don't need to fly to us. You will still fly to us, we are sure of that. From a culinary lunch break to a wellness or girls' weekend to a hotel stay lasting several days - also as part of a conference - you are in good hands with us. Take a look at our offers and packages and look forward to them.
Three culinary delights for triple enjoyment
At the Seehotel Niedernberg, the village on the lake, we write enjoyment very important. Three culinary hotspots await you. Our ELIES restaurant welcomes you with local and international dishes at the highest level - lovingly prepared and served with a great sense for culinary details. in the HANNES - Café & Bar enjoy coffee specialties with homemade tarts during the day. In the evening we serve drinks and small kitchen delicacies in a stylish bar ambience - if the weather is nice, also under the open sky on our picturesque terrace on the village square. Wine lovers come to our REBLAUSE fully at their expense. We take friends of the noble grape juice on an aromatic, subtle journey.
Meetings and events at the lake
Awarded as one of the best conference hotels in Germany and an excellent place to learn, our Meeting rooms and meeting houses diverse development perspectives. We open rooms to new possibilities in different conference formats with the highest concentration in fresh sea air and inspiring flair. Whether seminar, exam, conference or workshop such as design thinking or bar camps, with us you will achieve your goals. Our partner ensures variety and special team building Teut Kull with unique outdoor experiences.
Wellness day, wellness weekend, pure wellness
Wellness takes time, sometimes a few hours are enough, sometimes you allow yourself a few days to arrive with body, soul and spirit. Whether a little break in day spa, Wellness weekend, girlfriend time or girls weekend - in our vitalOasis you will feel completely at ease with the wellness area. Before and after a high-quality cosmetic treatment, relax in our versatile wellness area with outdoor and indoor pool, sauna world, whirlpool and outdoor log cabin sauna, cozy quiet living room with lake view, salt grotto and fitness house.
SEA feeling on our island in the lake
How many hotels do you know that have their own Island call their own in the lake? We are particularly proud of this special feature. On our island in the lake with its long sandy beach and beach club you will experience an indescribable feeling of freedom and space. A cocktail on the beach? A bachelorette evening with that special SEA flair? We can, we will - and we will be happy to put it together according to your wishes. And when it gets too cold outside, we simply move to our cozy finca on the island in the lake.
Short vacation in Hessen, time out in Lower Franconia
Whoever wants to arrive needs closeness. And that's easier than you think. For everyone in the Rhine-Main region, the Seehotel Niedernberg, the village on the lake, can be reached in just a few minutes by car. Your perfect place for a break from everyday life: for one Hour, a Tag or your personal getaway at the lake with many individual arrangements. It also offers you the expansive Environment from Odenwald and Spessart with the beautiful towns of Aschaffenburg and Miltenberg, the best excursion possibilities, also by bike along the picturesque banks of the Main.
Visit us, book us. We are looking forward to seeing you!
The villagers
Curious?
We are looking forward to your contact!